Arno Wouters
philosophy of biology / philosophy of action / biology of cognition
---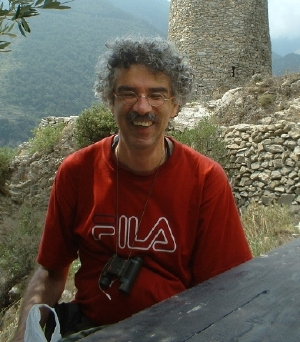 Current job
From 1 September 2019 to 30 November 2019, I work, on Thursdays, at the Faculty of Arts of Groningen University. I teach the Biology of Cognition course in the Minor Culture and Cognition.
Recent jobs
From 1 September 2018 to 30 November 2018, I worked part-time at the Faculty of Arts of Groningen University. I taught the Biology of Cognition course in the Minor Culture and Cognition.
From 30 January 2017 to 31 July 2017, I worked part-time as adjunct professor at the Department of Philosophy of Leiden University. I taught a course in moral psychology ('The Moral Brain') in the Ethics, Politics and Culture minor.
A short CV
I studied biology at Wageningen University (1974-1980).
I studied philosophy at Groningen University (1980-1986).
I obtained a PhD in philosophy of science from Utrecht University (1999).
I did research in philosophy of science at Utrecht University (1989-1994).
I taught a variety of courses in theoretical philosophy at several universities (Groningen, Utrecht, Nijmegen) (1995-1997).
I worked 3 years as a researcher in computer science (1998-2000).
I worked 2 years as lecturer philosophy of the life sciences at the Institute Biology Leiden (2001-2002).
I worked 10 months as a staff member for the Centre for Society and Genomics (2004).
I worked 2 years as postdoc Neuroscience and Personhood at the Heyendaal Institute Nijmegen (2005-2007).
I taught philosophy of biology at the Institute for History and Foundations of Science (Utrecht) (2007, 2008, 2009).
I taught philosophy of mind and action at the Radboud University Nijmegen (2007-2008).
I taught philosophy of cognitive science at Utrecht University (2008).
I worked 4 years as postdoc philosophy of action at the Erasmus University Rotterdam (2009-2012)
An elaborate CV can be found here.
Personal info
I live in Utrecht, The Netherlands.
Philosophy
My philosophical research interests include:
philosophy of action in connection with psychology, neuroscience and evolutionary biology,
explanation and understanding in biology, cognitive science and psychology,
philosophical aspects of systems biology,
mechanisms, causality, counterfactuals, laws of nature,
the relation between different levels of organization (reduction, emergence, supervenience, constitution),
teleology and structuralism, Darwin, D'Arcy Thompson, 19th and 20th century morphology, history of evolutionary biology,
gene centrism and genetic determinism.
Interests and hobbies

My interests include: computers, nature, natural science (especially biology), and philosophy.

My favorite pastimes are: reading, hiking, bird watching, dancing, and the internet.

E-mail

My private e-mail address is:

Please, consult me in advance if you want to send me attachments.

The name of this site is derived from New Zealand's only surviving native owl, the Morepork or Ruru. I had a great time tramping in New Zealand and an owl seems an appropriate symbol for a philosopher of biology (picture courtesy of Tom Tarrant from aviceda).
Selected contributions to the web
Philosophy
Internet, software, computers etc.
Nature
Selected publications
A more complete list of publications is here.
BCN-science and responsibility (neuroethics)
Explanation in biology (philosophy of science)
Computer science
Recommended information and links
Especially for philosophy students, but many others may profit from it.
Computers and internet
Philosophy
---
---

This page was made by Arno Wouters.
E-mail:

Last Updated: 31 Aug 2019.